The objective of this web site is to convince the world that mathematics is fun, and capitalize on the attention mathematicians' favorite number, Pi, gets on Pi Day. By promoting cool Pi-related things from around the web, we are able to demonstrate how important math is to our society today, both culturally and technically.
Contact Us
If you have suggestions or would like to publicize a Pi Day event, please use our contact us form.
Copyright & Intellectual Property
We do our best to credit original sources, and not to publish content without the owner's permission. If we've made a mistake, we apologize and will edit or remove your content as you desire promptly. Contact editor@piday.org with the subject line "Content Issue" so we're sure to see it quickly.
Colophon
WordPress along with the WP Fastest Cache plugin to power the back-end of this site.
Web Analytics are collected using Google Analytics.
Site Stats & Visitors
PiDay.org is 17 years old, started in March 2001 and appears in the top 10,000 websites in the world according to SemRush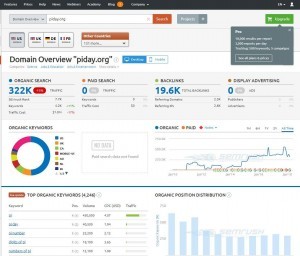 We receive around 2 to 2.5 million visitors per year with the vast majority of those around March 14th. During March 13th to 15th 2018 PiDay.org received 611,477 visitors and had over 1 million pageviews.