Best Raspberry Pi Starter Kits: All You Should Know About Raspberry Pi
_________________________________________________________________________
What is Raspberry Pi?
Raspberry Pi is a small and affordable computer board that you can use for various tasks. It is available for as little as $35. Actually, sometimes it is much cheaper than that. The Raspberry Pi Zero is available for just $5. It provides a lot of functions that a normal computer provides – including a processor, RAM, ports to plug in a monitor, mouse and keyboard, and an internet port as well.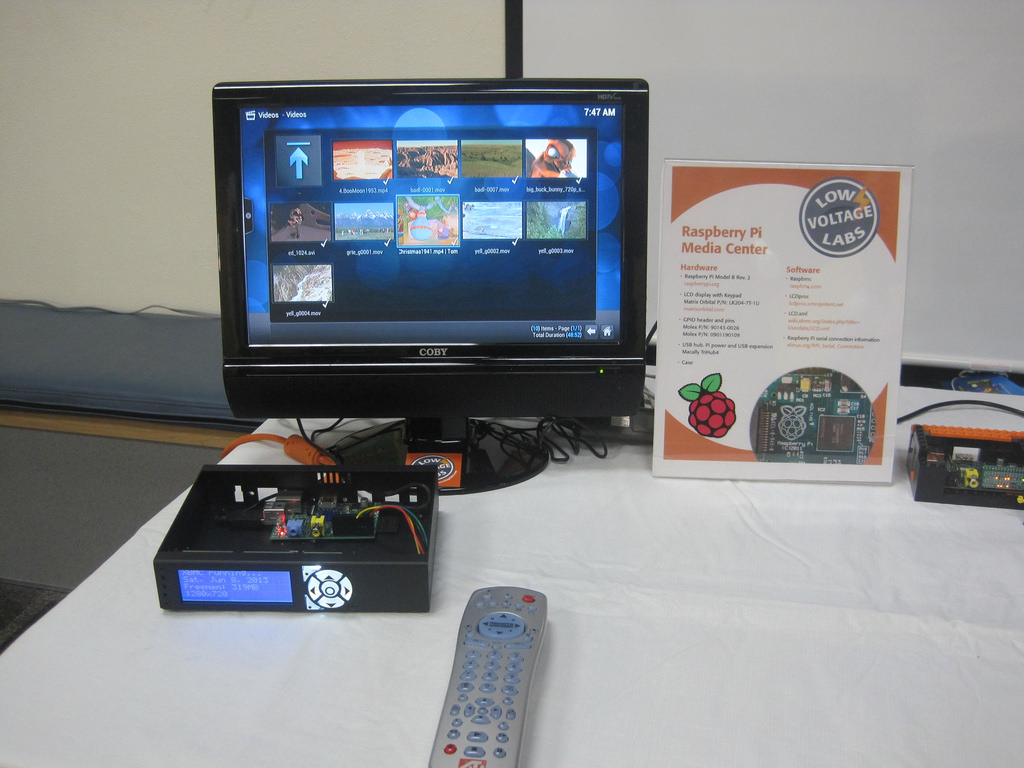 It is worth noting that Raspberry Pi is the world's third most selling computer after the Windows PC and Apple Mac. Now you are probably wondering what a small computer like this can do. Sure it is small in size, but it is a very capable computer.
What Can Raspberry Pi Do?
Raspberry Pi was actually built so that young kids could learn to code at an affordable cost. But it is capable of accomplishing common tasks like internet browsing, working on documents including spreadsheets and word processing, playing games, programming and more.
See some great applications of Raspberry Pi Here
So you can plug-in this credit-card size computer to accomplish a variety of computing tasks. However, you should note that the Raspberry Pi is just the CPU unit of your computer system. You need to add peripherals like a monitor, keyboard, mouse and have connector cables to set up the whole system. Don't worry we will explain everything in detail.
A unique feature of the Raspberry Pi that is not available on a regular computer is its General Purpose Input Output (GPIO) pins. You can use these GPIO pins while making electronic projects. GPIO pins can be connected to electronic sensors, motors and other electronic equipment.
For those of you who are looking for some inspiration to build your own project using Raspberry Pi, many people have posted their raspberry pi creations online. Make sure to check them out.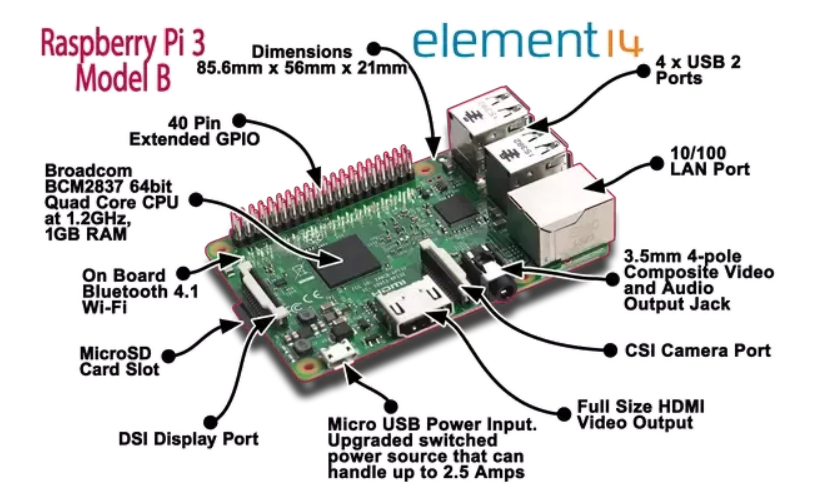 Image credit: Element14
Accessories You Need
There are all kinds of Raspberry Pi accessories available in the market. But the ones you can't do without are:
1. Power Adapter: A 2.5A 5V power adapter is needed to power up the microcomputer.
2. MicroSD Card: Use a microSD card with at least 8 GB capacity, class 10. The microSD card acts like the hard drive of your micro-computer. All your data, even the operating system itself, is stored on the microSD card. While setting up your Raspberry Pi microcomputer, you can either buy a microSD card preloaded with the operating system or you can install the operating system yourself.
These two accessories are the absolute essentials to get started with Raspberry Pi. But you can also use other accessories such as an HDMI cable to connect your TV or monitor with the Raspberry Pi chip and a case to protect it.
The Three Raspeteers
Raspberry Pi Model A: This model was released in 2013 and a second version of this, called A+, was released in 2014. The model A is now discontinued but the A+ version is available for purchase.
Raspberry Pi Model B: Model B was the original Raspberry Pi that was released in 2012. Many successors to this model were launched including "+" model, Pi 2, v1.2 Pi 2 and finally the Pi 3. These models use the Raspberry Pi B board, which is bigger than the A board used in A models
Raspberry Pi Model Zero: Raspberry Pi Model Zero took compact computing to a whole new level. It further reduced the size of Raspberry Pi Model A to produce a microcomputer CPU available for just 5 dollars. Many successors to this Model Zero came later. They include a Zero 1.3 board, Zero W and the Zero WH that was released in the beginning of 2018.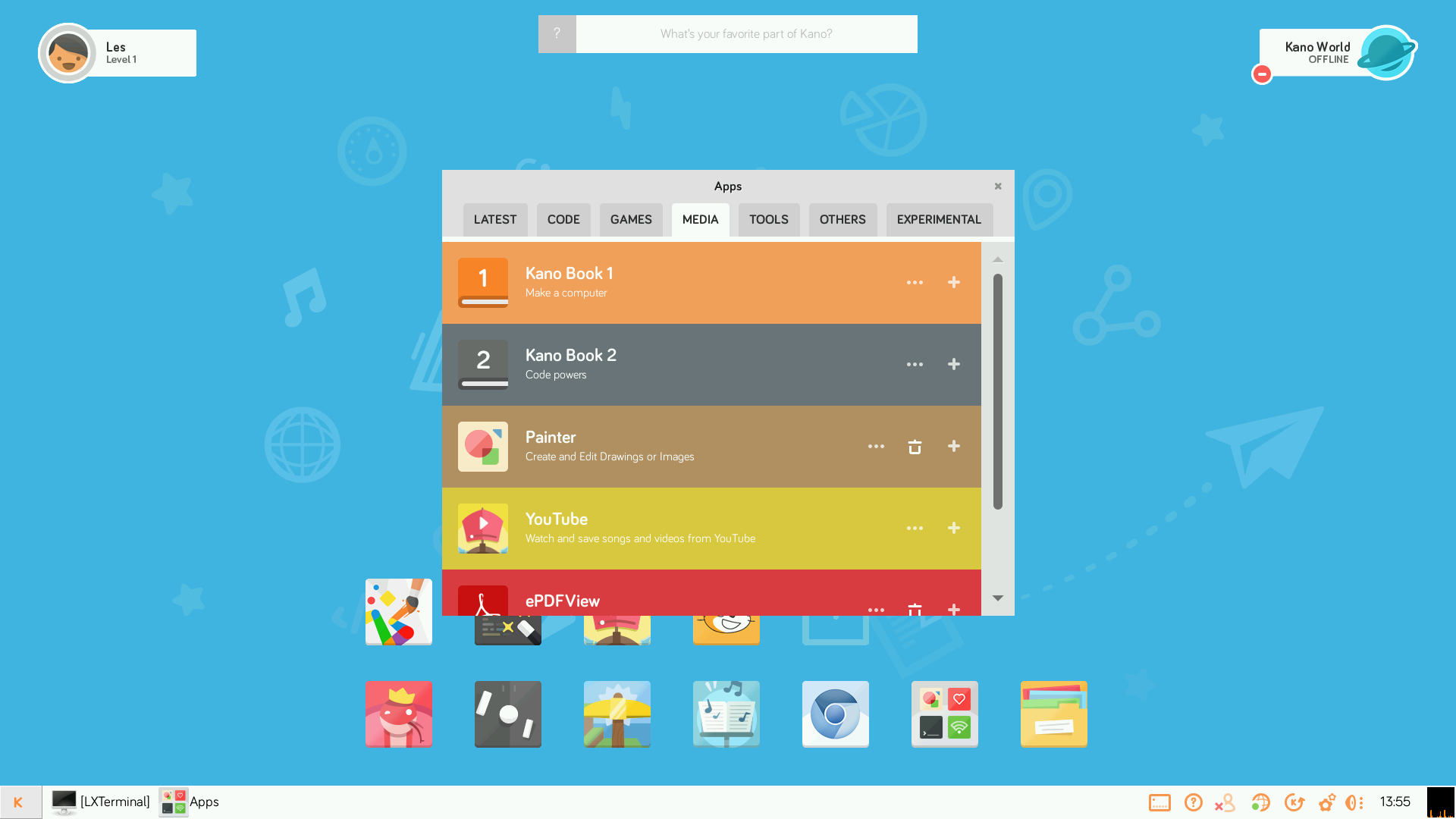 Best Raspberry Pi Starter Kits
1. CanaKit Raspberry Pi 3 B+ Starter Kit 32GB EVO+ Edition Premium Black Case
The CanaKit Raspberry Pi 3 B+ offers everything you need to get started with the Raspberry Pi microcomputer. It contains the Pi 3 B+ computer board, a microSD card preloaded with NOOBS, a case, power supply and cables to connect everything together. Apart from these supplies, you need to have a keyboard, mouse and monitor of your own.
As reported by customers, this Pi model is much faster than the previous B generations. This isn't a minor performance tweak. Performance has significantly increased as the processor has gone from 1.2GHz to 1.4GHz. The previous Pi generation made it a sub-desktop machine, as more than two tabs on the browser would freeze the system and playing videos on YouTube even in a small window was a painful experience. But with the Raspberry Pi 3 B+, you can watch YouTube videos in full screen at 1920×1080 pixels. In short, the Raspberry Pi 3 B+ can be used as a proper desktop machine capable of performing multiple tasks from word processing and coding to watching videos and playing games.
It is safe to say that this small machine is much more capable than you would probably imagine. It has a built-in dual band AC WiFi which further adds to its performance and makes it great. This is remarkable because it would have worked well, even with the 2.4 GHz WiFi, but the company chose to go one step further.
Setting up the operating system to a separately purchased microSD card is as easy as it gets. As a user reports, the best part about using this small but mean machine is that it works well as a media player using OSMC. You can enjoy watching YouTube videos, stream remote content and play local video or music content on your USB drive.
Pro Tip: Use a fast memory card for the best performance improvement. Use a 32GB U3 Class 10 card and you will see snappy performance.
In short, the Pi 3 B+ is a major performance improvement over the previous version. The 200 MHz increase is great but the real performance gem is the significant increase in networking speed.
If you want to see how fast the Raspberry Pi 3 B+ actually is, watch the following video. You can see a comparison of the Pi 3 B+ with the 3 B version.
https://www.youtube.com/watch?v=NNwoqEybOqg
2. Vilros Raspberry Pi 3 B+ Complete Starter Kit with Clear Case and 16GB SD Card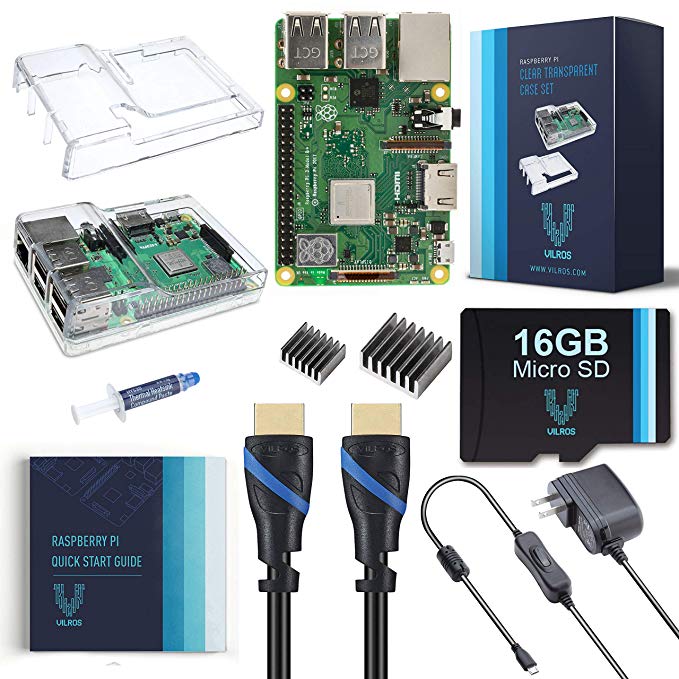 Vilros Raspberry Pi 3 B+ kit has all you need to get started with your Pi computer system. It contains the following features and parts:
16 GB Class 10 microSD card which has NOOBS already loaded on it. You get two clear case covers. One allows you to connect ports while the Pi microcomputer is kept inside the case. The other completely covers the Pi microcomputer so that all ports are closed. As goes without saying, it contains the Raspberry Pi 3 B+ board. It contains heat sinks that make sure the Pi board doesn't get overheated. The updated power supply comes with an integrated power switch, which is a nice added touch.
One thing that will impress you is the packaging of this product. Both outside packaging and product packaging is top-notch and looks professional. Another thing you'd like about this kit is that the instructions are super easy to follow. You don't need to know anything about Linux or Raspberry Pi in advance. And the best part is that, the instructions manual is not a hundred pages long. It is very concise. The build quality of individual components in the kit looks good, making it a strong competitor at its price point.
This small kit can accomplish many things – connect wirelessly to the internet, use the office suite, learn a programming language and make devices that are functional. This kit is super useful for those looking to learn more about programming and electronics. The best part is of course the affordability it provides for all kinds of people, who want to do regular internet surfing and who want to do the serious stuff including programming and electronics.
3. Smraza Raspberry Pi 3 B+ Starter Kit, Compatible Pi 3 Model B Case, 16GB SD Card, 2.5 A Power Supply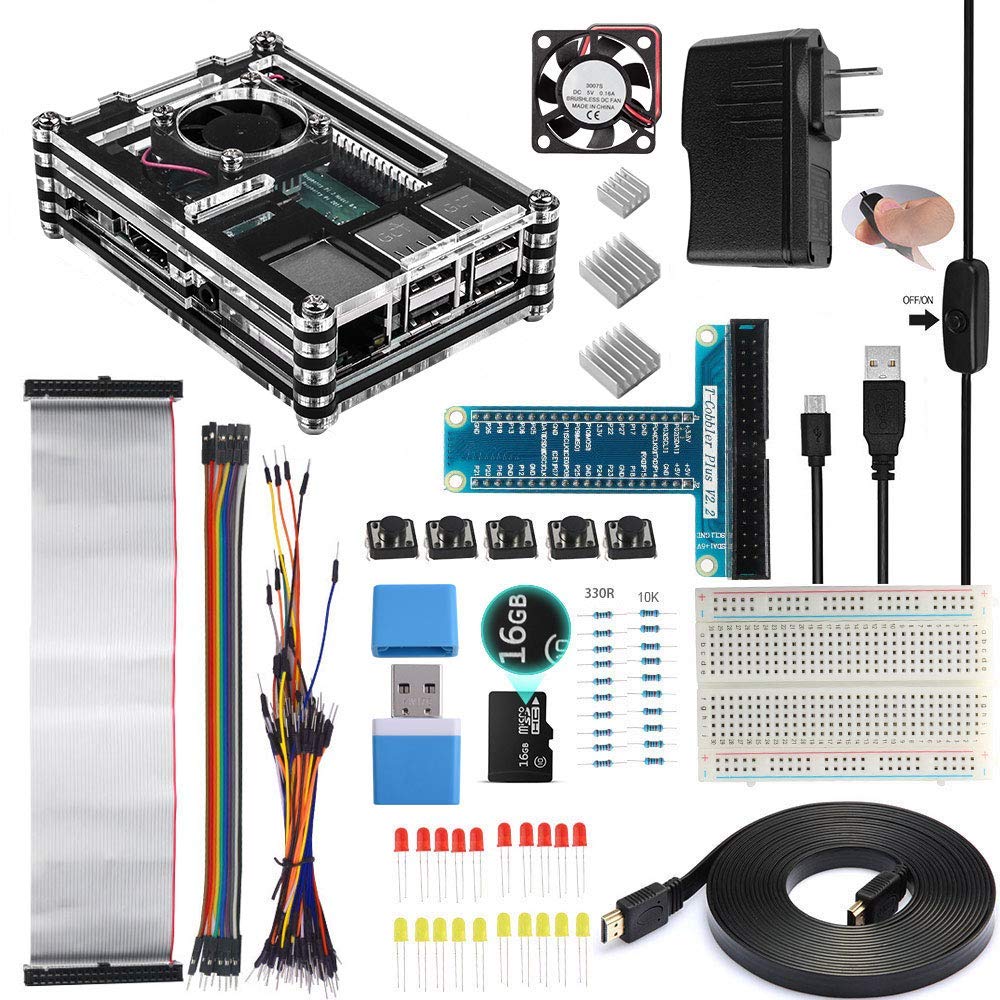 Smraza Raspberry Pi 3 B+ is another good option for those looking for a quality Raspberry Pi kit. This kit comes with the following components:
Easy turn on/off switch on 59 inch micro-USB cable for Raspberry Pi 3 Model B+
16GB SD card
GPIO Ports
Raspberry Pi 3 Model B+ Case
Heat Sinks and Cooling Fans – 3 Heat Sinks and Mini Cooling Fan
Smraza Raspberry Pi 3 Model B+ 2.5A power supply
If you are wondering why this kit costs almost half of what other kits cost and still loved by the customers, the reason is that it doesn't come with the Raspberry Pi 3 B+ board. It only comes with the case and other components. The reason we have listed this here is because it provides amazing cooling features, on/off switch and GPIO ports. Unlike other cases in the market, it has multiple layers which make it a complete case. But some users mention that removing the protective layers can be a hassle.
We specially love the on/off switch-enabled USB wire, which makes turning the Pi on or off super easy. This feature is not available on many kits in the market.
If you want to do some intense computation, for instance run a stress test on your Pi, you can make use of the three heat sinks and one cooling fan that will prevent it from overheating. Cooling is super important when you're leaving your Pi on for long periods of time, such as when downloading and extracting large files. The amazing thing is that the cooling fan makes no noise during active cooling even at 'fast' speed. It is so quiet that you won't be able to hear it even if you try hard.
The kit is super easy to install and takes about 10-15 minutes. The instructions that come with the package are very straight-forward, so you can get started really quickly.
4. Raspberry Pi 3 Official Desktop Starter Kit (16Gb, White)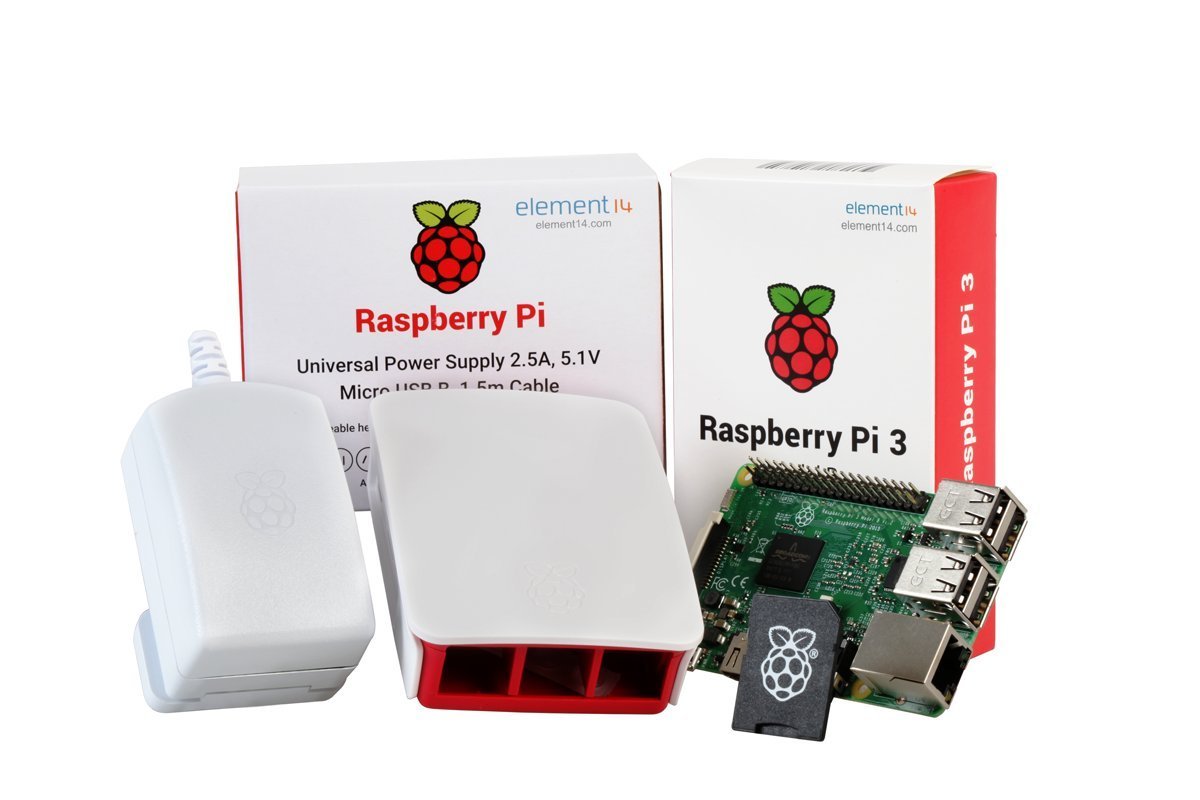 This is the official kit for Raspberry Pi 3. The company gives only the essential components in this kit: a power adapter, microSD card with Raspbian OS already installed ons it and NOOBS installer onboard, and the official Raspberry Pi case and the official Pi 5.1V 2.5A power supply.
People choose the official kit for many reasons.
Since this kit is built by the company themselves, it is bound to work seamlessly with compatible software. Second, it is available at a great price for all the essentials you need to get started with Raspberry Pi. However keep in mind that you'll need a HDMI cable, a monitor, a keyboard and a mouse apart from the kit components to get started.
Users indicate that this kit packs a lot of power in a small package. But you may need to ensure that the Pi unit remains cool. Raspbian which is a Linux based OS, needs active cooling if you want it to perform to the level of Windows or Apple OS.
Some people drill a half-inch hole in the plastic official case because not doing it results in the overheating of the RAM on the underside. But you must do it at your own discretion. Although this official kit is priced effectively, we would love to see heat sinks on it as well. In short, this official kit provides a great value for money.
5. Vilros Raspberry Pi 3 Model B Complete Starter Kit with Keyboard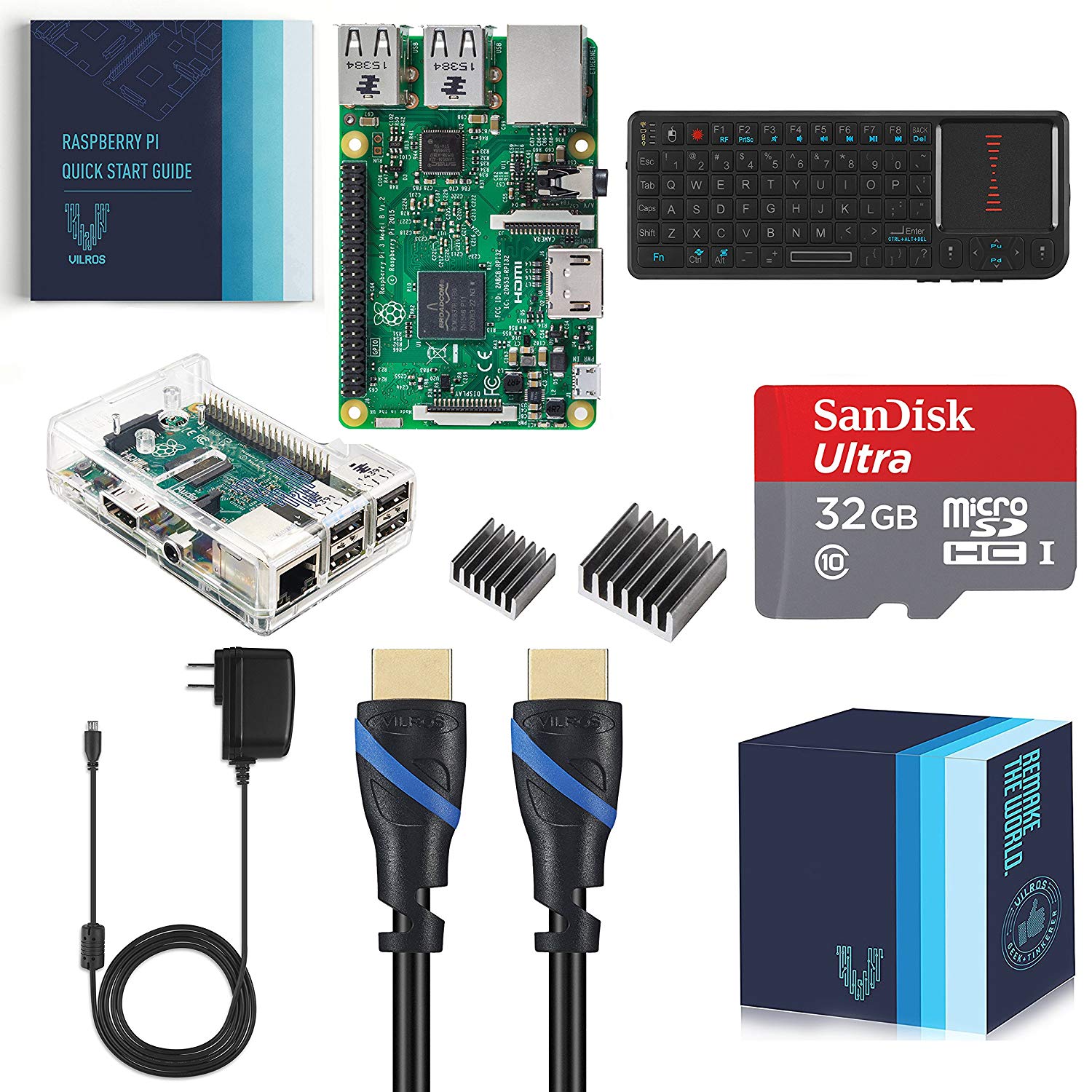 This is an earlier version of the Raspberry Pi. But this kit has more components than what are available in most kits. It comes with Raspberry Pi 3 with wireless and bluetooth connectivity, a 2.4G wireless keyboard with laser pointer, 32 GB microSD card with NOOBS pre-loaded, SD card adapter, 2.5A Power Supply, HDMI cable and two heat sinks. All the components in this Vilros kit come with a one year warranty.
There are many advantages of buying this Vilros kit. First is obviously the keyboard you get at the same price as other kits without keyboard. The QWERTY keyboard works like a charm and you don't need to add a mess by adding wired mouse or keyboard. Second is the packaging and the ease at which you can put the individual parts of the kit together. Because we all know how assembling such kits can be downright painful. At this price point, the kit offers you the ability to do a number of things, whether it is to use it as a media center or build your own servers. The setup instruction manual is really easy to follow. So you will be able to get started really quickly. Another advantage of this kit is that it comes with an HDMI cable, which is usually not available in many Raspberry Pi kits.
However, the kit comes with some drawbacks which you may or may not want to ignore depending on your priorities. First is that the plastic case for the Pi module is a bit flimsy. Customers also reported that the NOOBS software could not connect to the WiFi directly. However, this didn't pose a big problem as using a ethernet cable fixed the issue. Another drawback is that there is no shutdown switch on the board itself. But, if you are so eager, there are tutorials on Google to help you easily add such a switch.
6. CanaKit Raspberry Pi 3 B+ (B Plus) Ultimate Starter Kit – 32 GB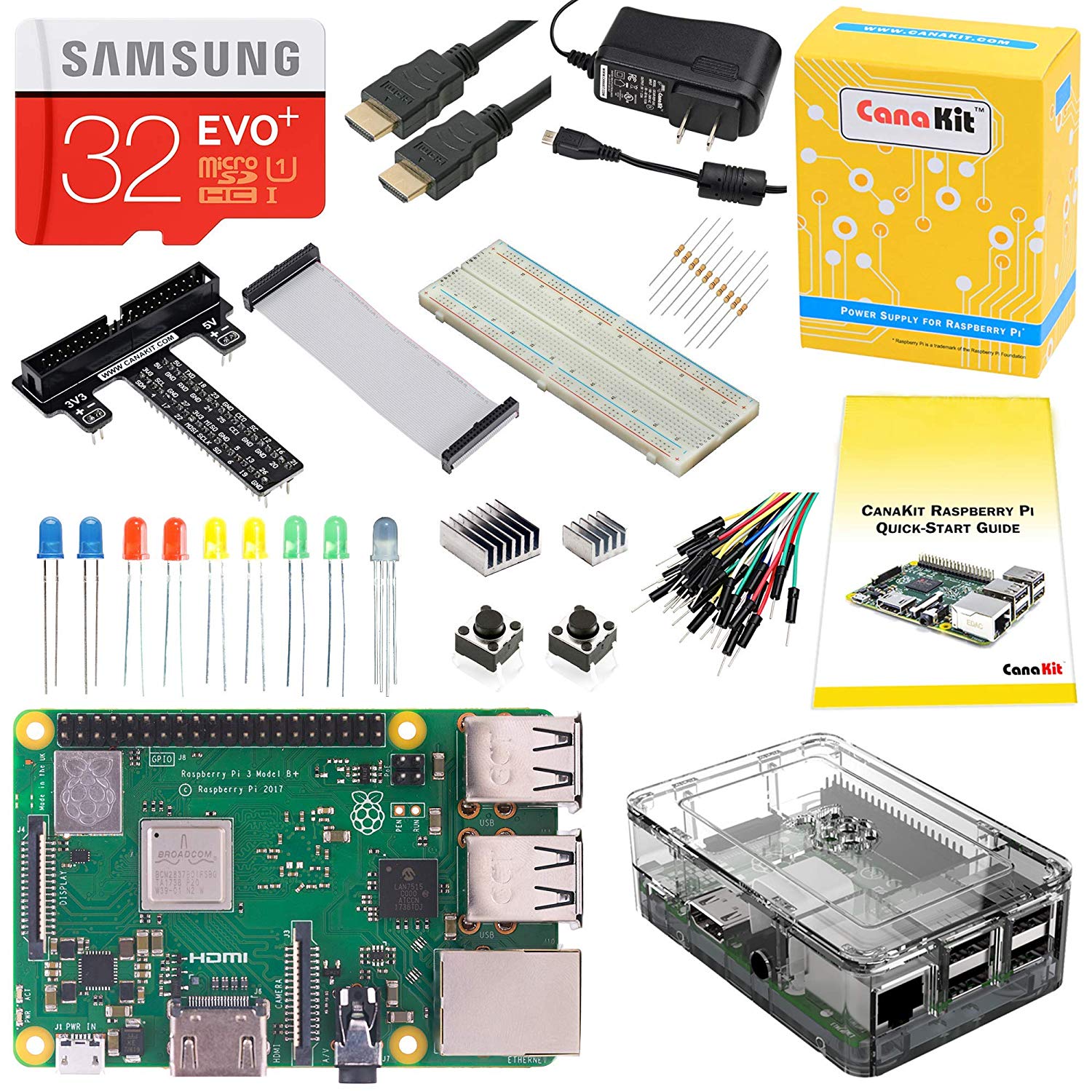 This is the most fun kit on the list as it comes with additional components to let you experiment with electronics projects. All components needed to get started with Raspberry Pi are there in this kit.
You get:
Raspberry Pi 3 B+ board that comes with 1.4 GHz 64-bit Quad Core Processor and 1GB RAM
32GB micro SD card with NOOBS pre-stored on it
2.5A Power Supply with 5 ft. micro USB cable and noise filter.
HDMI cable with CEC support
Pi 3 case
Two Heat Sinks
Electronic Components Guide for beginners
Assembly Guide
GPIO and resistor colors quick reference cards
CanaKit GPIO to breadboard Interface board
GPIO Ribbon cable
Large breadboard
Jumper wires
RGB LED
8 x LEDs (BRYG colors)
2 x Pushbutton switches
10 x 220 Ohm resistors
5 x 10K Ohm resistors
When buying this item, be sure to read the customer reviews and decide for yourself. Although the company provides a great number of components in this package, some customers report that the CanaKit branded items don't work well.
For instance, one customer reported that the CanaKit power supply caused undervoltage in just ten minutes of running a Pi Stress test (A pi stress test is asking the computer to compute all digits of the number Pi). This problem only occurred with the CanaKit power supply. When the customer used the official Raspberry Pi Foundation power supply, the computations could go on for long periods of time without showing undervoltage.
The same customer found a similar problem with the CanaKit branded USB card reader. Although the micro USB card that come in the package worked well on other computers, the CanaKit reader failed to read the micro USB card. This again shows that there may be a problem with the CanaKit branded items in the kit.
Since there are some significant complaints about this product from customers, it is advisable that you check the return policy with the company before buying this Raspberry Pi kit.
Things You Should Know About the Raspberry Pi
Can I work on Raspberry Pi?
Yes, but it will take some getting used to. Raspberry Pi is not as smooth as Windows 10 or the OS people are used to these days, but still it is fairly useful. If you use advanced local applications, they will not be supported on Pi's operating systems.
But if you use Pi as a thin client, you will find little difference in comparison with a regular PC's performance. The only lag you will notice is while transferring data to a USB drive.
Can I surf the web on Raspberry Pi?
Yes, Chromium is the official browser of the latest version of the Pi's OS. Chromium is a product of Google chrome. Raspbian users can find the Chromium browser in the Internet menu. If you are wondering what Chromium can do, it does most of the things people usually look for on the internet. You can browse social media websites, play video on YouTube and Vimeo and do almost everything that can be done on a browser. However, note that you can not play multiple videos or open a dozen tabs and expect a smooth performance on Pi.
Which Operating Systems can I install on Raspberry Pi?
You can install many operating systems on Raspberry Pi including the Raspbian OS, Ubuntu Mate, Snappy Ubuntu Core, Windows 10 IoT core, RISC OS Open Limited, Moebius, RetroPie and OSMC.
How capable is the Raspberry Pi?
The raspberry pi is so capable at its size and budget that it will blow your mind. You can use the Raspberry Pi to learn programming, surf the internet and work on electronic projects. But that is barely scratching the surface. You can actually use it as a media center, use it to build laptops, tablets, phones, robots and even conduct experiments with it on the International Space Station.
Some Amazing Raspberry Pi Projects
Remote Controls for Toy – People working at Adrafruit have given a R2D2 toy remote wifi controls, a webcam and video projection features using the Raspberry Pi.
Homemade Smartphone – The PiPhone doesn't look sleek as other smartphones. But the amazing accomplishment of its makers is that it has a working touchscreen. In fact, you can make one of your own using the code that software engineer David Hunt has made available on his site.
Bartender – Thought Raspberry Pi was boring? The Automated bartender built by the people at Hacker House employs 'flowmeters' to mix different drinks in the required proportions. You can try making this amazing project but it is a little complicated to replicate. Check how to make this automated bartender on YouTube below:
https://www.youtube.com/watch?v=x6QYNK6WI50
Smart Mirror – How about a mirror that tells you the time, temperature and news headlines so that you're always informed? Its makers built their own wooden frame which goes around the mirror glass. You can check the YouTube video on how to make his beautiful smart mirror below:
https://www.youtube.com/watch?v=fkVBAcvbrjU
Create Your Own Google Home – Creating a smart speaker based on Google Home is easier than you think. The people at MagPi magazine provided an awesome cardboard kit that can accomplish this function. Just add a Raspberry Pi board and you can have it.
3G Controlled RC car: We have all seen normal RC cars. But how about an RC car that you can control from your smartphone using 3G? Sounds amazing, right? Well, with some soldering and technical acumen, Alin Lordache has made this idea into a real product. He used a Raspberry Pi B+ to make this product. You can see how the product works on Youtube in the video below:
https://www.youtube.com/watch?v=vTWXdoLjXNs
Internet photo frame – Everyone likes pictures because they bring back old memories. So why not a Pi project that helps you work with photos? You will need a Raspberry Pi board and a beautiful frame to build this project. Check out how the internet photo frame works in this instructables YouTube video:
https://www.youtube.com/watch?v=lGtfYQwN67s
Your Own Media Center – You can turn Raspberry Pi into a media center with Open Source Media Center (OSMC). It allows you to watch videos in the most popular media formats from any place in the world. Within the media center, there is also an app which allows you to play media on YouTube, SoundCloud, Twitch and Tunein. The software required for this can be downloaded from OSMC website.
Here is a video that shows how one can make a media center with Raspberry Pi.
https://www.youtube.com/watch?v=4oMongjNslg
WiFi Touchscreen Digital Camera – Raspberry Pi has a camera add-on which you can use to make a digital camera that transfers photos via WiFi. Here is a YouTube video of how the Pi-powered camera looks like:
https://www.youtube.com/watch?v=MRrELkIHgbU
The camera allows you to add effects, change ISO settings and have night vision, for which you'd need an infrared-sensitive camera board.
Turn a Normal Printer into Smart One – Do you have an old printer that is begging an update? Well, good news! You can have a smart printer without paying hundreds of dollars for a new one. You just need to build a Raspberry Pi print server which is comparatively easy. You can use this step-by-step guide available online. As far as the components are concerned, you will need a WiFi enabled Raspberry Pi and a microSD card.
Motion-Detector Alarm – This Raspberry Pi powered motion detector alarm is good enough to feature in a James Bond film. We are not kidding. Its infrared sensor can detect any movement, so when an intruder tries to pass through, the alarm asks you to enter a disarm pin, before it buzzes the sound alarm and flashes the warning light. But it goes beyond that by taking a picture of the intruder and sending it to your email account.
See how the PiLarm works on YouTube:
https://www.youtube.com/watch?v=p0Hc0JWI4I0
10 Best Ways You Can Use the Raspberry Pi
1. FM Radio Station
How cool would it be to listen to your voice on the radio? Perhaps you have been aching to share a message in your local community for a long time. There is good news: the Raspberry Pi can give the right platform to your voice.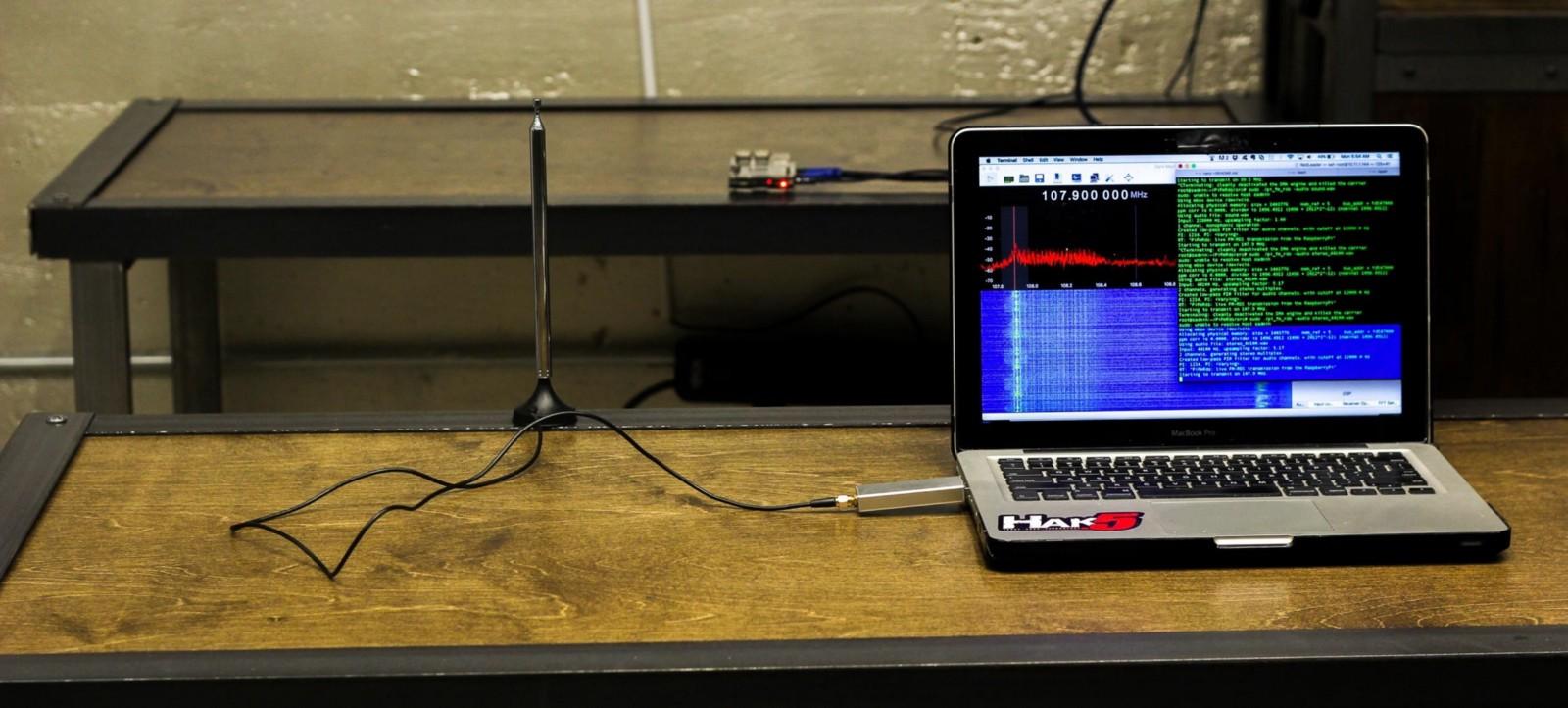 But there is a catch, you cannot broadcast on FM Radio without a proper license. Anyhow, the Raspberry Pi broadcasts over a small distance, so you might get away with it but we don't recommend you try it unless you're sitting in an actual radio station and have their permission.
To set up the Pi as a FM Radio, you would need a portable battery solution and some soldering. What you want to broadcast on the radio channel (this is hypothetical since it is illegal), you need to store on a microSD card in advance.
2. Robot Controller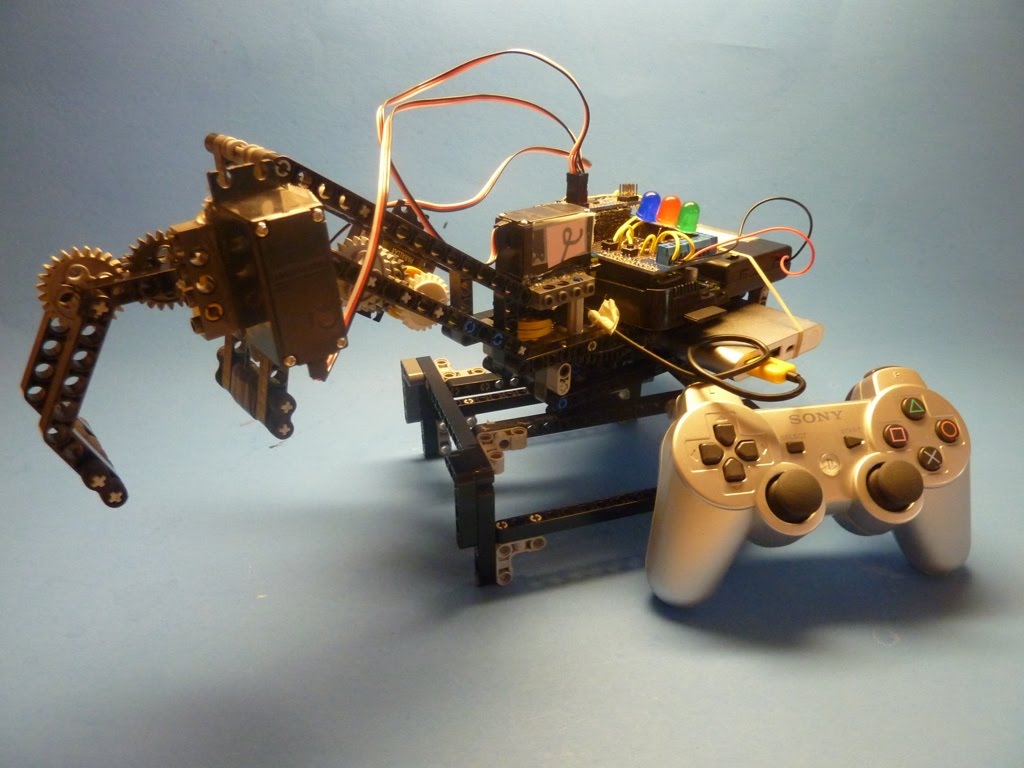 There are too many Robot Raspberry Pi projects out there to choose from. You can go for a dedicated Robotics package that is built for Raspberry Pi. Or you can have your unique design built from parts you already have.
To make a robot controller, you will need to have the Raspberry Pi Zero W. Because this version of Pi has wireless connectivity, it is the best tool to build lightweight robots. Other Raspberry Models are heavier than the Zero W and you will have to pay attention to USB ports if you use them.
3. Minecraft Server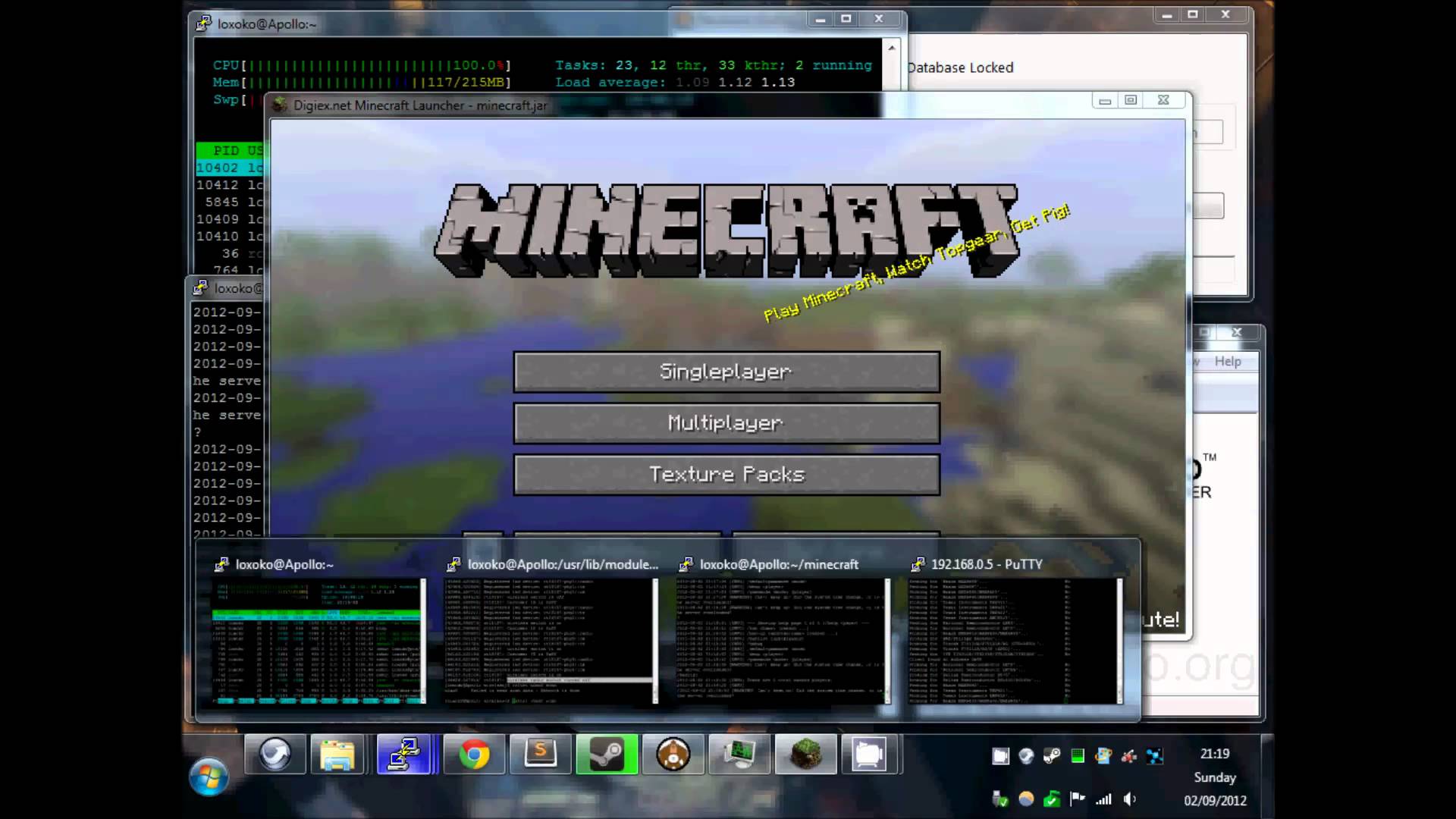 Raspberry Pi users love playing Minecraft so much that the official OS, Raspbian, comes with Minecraft pre-installed on it. But the good thing is that you can use Raspberry Pi as your Minecraft server. House your Minecraft game world within this Raspberry Pi server and you can play from any location on your network. If you play with other Minecraft fans, you can use multiple Pi servers to take your game to the next level. You can also use Raspberry Pi as a game server for other games such as Quake, Civilization, Doom, Open TTD and even the official version of Windward.
4. Retro Gaming Machine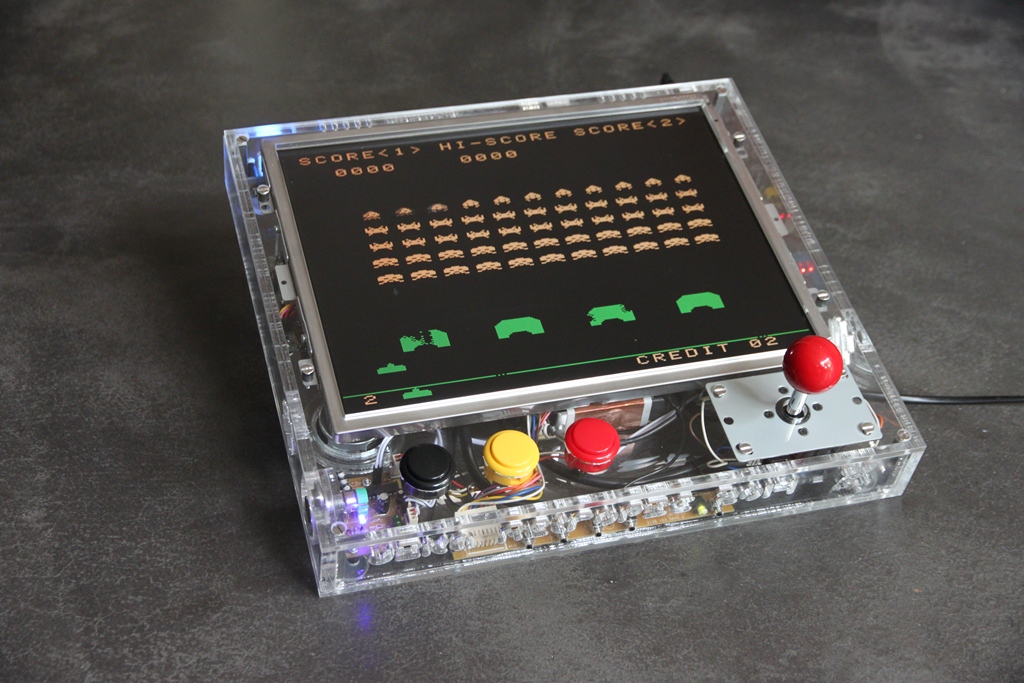 Raspberry Pi is popular for being used as a retro gaming machine. It is small in size and yet so powerful that you can use it in various gaming setups. For example, it can be used as one of the lightest parts of a full-size arcade machine. One of Raspberry Pi's common use in gaming is that it can be slipped in small spaces in gaming projects. The two best options you have for retro gaming are Recalbox and RetroPie.
5. Stop Motion Camera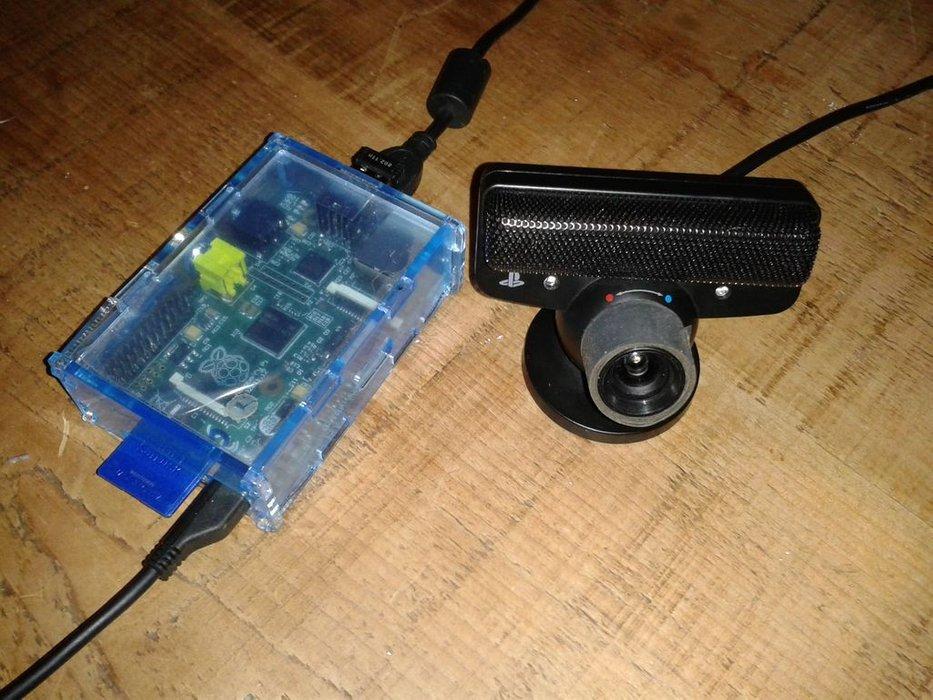 Stop motion video is an amazing thing to capture. Did you ever see stop motion videos and wonder how they are made? Well, thanks to Raspberry Pi, you can make them yourself. Not just Raspberry Pi, you will also need a camera module to make it work.
How is it actually done though? You need to learn a bit of Python, the programming language. You will need to have a mount and proper lighting to shoot the stop motion video. Of course, this can't be perfected in an hour. It takes some practice and patience to shoot a good stop motion video. To find more details on how to capture stop motion video using Raspberry Pi, check out this online tutorial.
In case you're wondering, here is how a stop motion video looks like:
https://www.youtube.com/watch?v=RmFXhvErLPM
6. Time Lapse Camera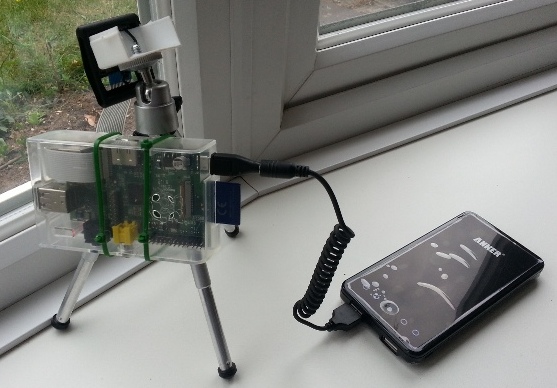 Building a time lapse camera is a bit different with Raspberry Pi. You need to take single frames with timed delay to shoot time lapse videos. You will need a tripod and a portable battery for your camera setup. A smartphone tripod is enough for shooting a timelapse video.
There are so many things you can shoot for your first time lapse video with Raspberry Pi. People passing by, sun setting below the horizon, sunrise, how the weather changes in the sky, capturing the changing facial expressions of your loved ones – there are a number of things you can do.
Pro Tip: If the image quality isn't good or there is any lag, you can use the Pi to create time lapse on a DSLR camera as well.
Here is a sample time lapse video to give you some inspiration:
https://www.youtube.com/watch?v=VuO5PoX0ZfA
7. Twitter Bot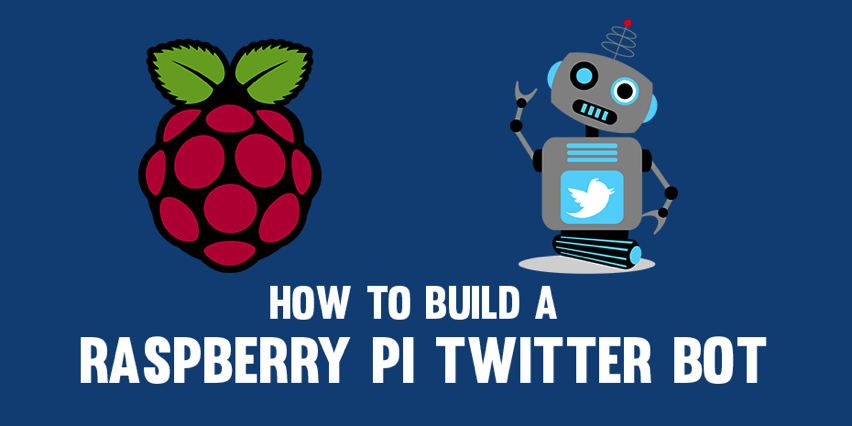 Raspberry Pi Twitter Bot
A lot of random information is there on Twitter because of bots that do branding for companies and send notifications or messages to users. But many of such notifications are downright annoying and spam.
You can create your own Twitter bot to send useful messages. You just need an internet connection and a Raspberry Pi board.
Get a Twitter app registered on Twitter website. This is done so that the Twython software can interact with the Twitter API. Then you just need to mention the text that you want the bots to tweet. And there you have it – a bot that broadcasts your messages on twitter.
Here is a video that can help you create your Twitter bot: