Pi Day 2020 Celebrations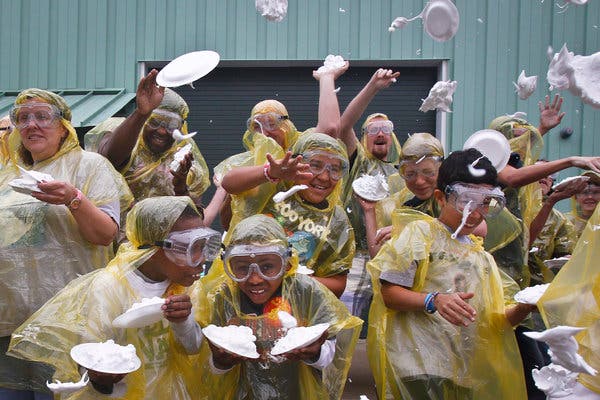 Nasa Pi Day Challenge – Each year, the JPL Education Office creates an illustrated Pi Day math challenge that features real-world problems NASA scientists and engineers solve to explore Earth and space. The 2020 challenge will be available as both a standards-aligned lesson for the classroom and as an activity students can do on their own. Answers will be released Monday, March 16. Explore our collection of lessons and problems from previous years' challenges at the links below, and check back on March 6 to participate in the 2020 NASA Pi Day Challenge!
Geek Gala at the Reuseum – Boise, Idaho – This year's Geek Gala is set for Saturday, March 14. It's happening at the Crystal Ballroom in Boise and runs from 7 to 10 p.m. A live auction will take place with prizes including a vacation to McCall, a vacation package to Kiawah, South Carolina, and more. Pies will also be available for purchase at the event. The Gala helps support The Reuseum's efforts to bring science, technology, engineering, and math educational opportunities to underserved or underprivileged children at low or no-cost. For tickets, email [email protected]
Pi Day Celebration – Alexandria, MN – Habitat for Humanity of Douglas County and Thrivent Financial are kicking off the 2020 build season by hosting a Pi Day Celebration on Tuesday, March 17, 2020. There is never a bad day when your celebration of PI includes fresh made "pie!" Thrivent members, those interested in membership, and all who would like to support the Thrivent Faith Build are invited to pick up a pie with a free will donation to Habitat for Humanity, or receive a free pie upon signing up for a Habitat build day with one of the Thrivent Financial representatives. No construction skills necessary! Pie pickup time is from 9 am to 1 pm and all proceeds go to Habitat for Humanity of Douglas County.
Pie Fest – Olympia, WA – Get your bake on, because the 12th annual Pie Fest is back for another year! Senior Services for South Sound and the Thurston County Food Bank will hold Pie Fest on March 14th, 12-3 pm at the Olympia Senior Center. All funds raised will be used to end food insecurity in our community. Pie slices will be sold at $3 per slice, and this year there will be two prize categories; Youth (15 and under) and Bakers (16 and over). There will be live music by trio: Swinging Open – Jazz & Such, raffles, and of course, lots of pie to indulge in on this Pi Day celebration! *Gluten Free and Sugar Free pies will be available while supplies lasts. To enter, please review rules and fill out the Entry Form, which is also available at the Olympia and Lacey Senior Center reception desks. Return your entry sheet with two pies at the event before 10 am. For more information call 360.586.6181. Can't wait to see you all there. May the best pie win!
Pi Day Party – Vancouver, WA – Rally Pizza celebrates 3/14 with $3.14 tap beer and house wine, meatball pizza, and music from DJ Mauvelous from 5-9 pm, with proceeds supporting the Pacific Northwest chapter of Girls Inc. This amazing organization includes the girls-only Eureka! STEM program that they're proud to be supporting for the fourth year in a row. Eat well and do good with them on March 14! Reservations recommended.
Pi(e) Squared Party – Pittsburgh, PA – A slice of pie and your first beer for the sweet deal of $3.14 a piece. Don't worry, we've got a special guest coming to explain "Pi in Five" a crash course in all things pi. Tickets for Pi(e) Squared are available here.
Pi(e) Day Celebration – Portland, OR – March 14th, 10am – 7pm. Come into the shop for a full day of homage to the magic of Pi(e)! Pi Bracelets: Lisa Melander of Math Sherpa has created Pi Bracelet kits for us! Kid's kits include two colors of beads plus one black bead (for the decimal point), to be strung in the initial sequences of Pi's digits. Adult kits include numbered beads to be strung in order. Lisa will be in the shop to offer drop-in assistance with making these fantastic ornaments. Free Pie: Our cookbook club will be pulling out their best pie recipes, and bringing the results in to share. Grab a slice while you're working on your bracelets! Pi-inspired patterns: From shawls inspired by the original designs of British knitting teacher and designer Elizabeth Zimmermann, to mitts and hats sporting the digits of the number, there's something here for everyone! (Includes both knit and crochet patterns!)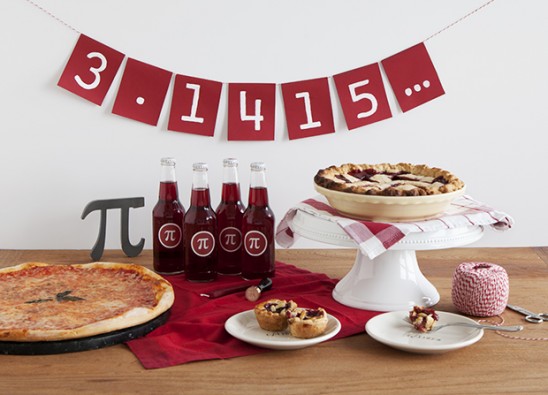 6th Annual LifeROOTS Pi(e) Day – Alberquerque, NM – Attendees will be able to sample all kinds of pie from chicken pot pie to chocolate pie to pizza "pie" cooked by local chefs and bakers. They can also buy whole pies to take home. Vara Winery chefs are contributing "pi-ella," better known as paella, a seafood-and-rice dish from Spain. General admission, which includes all-you-can-eat samples, is $20. Children younger than 5 get in free. Children get special boxes to take home samples of pie they don't have room for during the event. They can also participate in a pie walk and meet Albuquerque Isotopes mascot Orbit, New Mexico Runners mascot Rio and Duke City Gladiators indoor football team representatives. Adults can buy a glass of wine. LifeROOTS is a nonprofit organization that has been serving Albuquerque, Rio Rancho and the surrounding area since 1958. The organization offers innovative programming and services to individuals of all ages with physical, developmental, and behavioral disabilities.
Pi(e) Day Partaay – Saratoga Springs, NY – Home Made Theater is hosting a "Pi(e) Day Partaay!" for its upcoming annual spring benefit. The event is scheduled for 7 to 10 p.m. on Saturday, March 14, at the Spa Little Theater in Saratoga Spa State Park. The theater-wide event will feature a pie theme, with party rooms labeled the Luscious Lemon Meringue Lobby, the Triple Berry Balcony, and more! Activities include sampling and voting for the best pie in the pie bake-off, a three-round pie-eating contest with prizes, a photo booth and a chance to throw pie at Home Made Theater's staff members. Pie-throwing opportunities will cost $5 each or $20 for five. Additionally, live entertainment such as singing, dance and monologues will be presented throughout the night.
10,000 Pi digit Recitation – Washington, D.C. – Siva Natarajan will be reciting 10,000 digits of pi from memory this coming Pi Day! This will be located at the Pi Pizzeria in D.C. They will also be giving out free large pizzas to anyone who was born on Pi Day. There will be a memorization contest, and BOGO pizza for $3.14!
Pi Celebration – Middleton, WI – The pie eating contest will be held on Friday 3/13. 3-6 contestants will have one minute to see who can eat the most of whatever pie concoction Jason Harder (The Pie Guy) comes up with this year. (Last year it was a giant 3 pound French Silk Pie Taco, 2018 was a Pi-ramid shaped pie, etc…). It is live around 6:30am Central Time on WISC-TV3. They're running specials on Friday 3/13 and Saturday 3/14 to allow schools and business to participate this year.  Specials are: Pi shaped Pies (French Silk and Key Lime) for $28.99, Pi shaped brownies for $9.99, Pi shaped frosted cookies for $1.79, Slices of pie are $3.14, wear a Hubbard t-shirt and you get a free slice, and they have a Pi day t-shirt made up each year, and when this year's is purchased if you wear it to get a slice anytime throughout the next year your slice of pie is $3.14! What a cool deal!
Pi Day 5k – Ocean City, NJ – Get your sneakers ready because on March 14 at 9 a.m. there will be a Pi Day Run. The race is being organized by Ocean City Primary School teachers Carrie Merritt and Erin Porter and is open to students, families and community members. Post-race Pi Day activities include entertainment, snacks and awards. Overall winners and age group awards will be presented. The first 314 pre-registered participants will receive the school district's exclusive Pi Day T-shirt. There are two races, a 5K (3.14 miles) and a 1-miler. Cost is $10 for students, $15 for adults and $40 for a family of four. Pre-registration payment is needed by March 6 in order to receive a T-shirt. After March 6, register the day of the race. T-shirts will be available while supplies last.
Bean & Pie Pi Day Celebration – Coeur d'Alene, ID –  On March 14, from 10am to 1pm, two summer handpie flavors are coming out of the pie vault for one day only, a brand new flavor launch, and all handpies are three for $14. Includes a Pi Reciting Contest with a free pie for the person who can recite the most digits of pi from memory. Pre-orders accepted online!
Other Pi Day Opportunities
If for some reason you cannot make it to any of those celebrations, you definitely can still find an amazing Pi Day Deal near you! You can also celebrate at home by wearing our Pi Day Merch or having a classroom party with our Pi Day teacher's supplies!