55 Pi Day Deals for March 14th 2020
We want you to enjoy Pi Day as much as we do, so we have compiled a list of 55 Pi Day deals that we think will really get you pumped for Pi Day. Currently we have deals from places like Lou Malnati's in Chicago, Papa Johns, Blaze Pizza, the Hubbard Avenue Diner, and more! We are constantly looking for more Pi Day deals to share, so if you have any, please contact us through the form at the bottom of this page!

1. The Hubbard Avenue Diner – Middleton, WI – Has a huge Pi Day celebration every year! They make pi-shaped pies, pi-shaped cookies, and pi-shaped brownies. They will also have $3.14 pie slices available on 3/13 and 3/14! Last year they sold 2,800 slices of pie and having their pie-eating contest covered by a local TV station! Watch their Facebook page for more information!
2. The Grand Traverse Pie Company – Michigan/Indiana – Are offering you a FREE slice of Michigan ABC Crumb Pie with any purchase – They will also ship personal Pi day pies all over the country if you order by Monday, March 9th.
3. Pie Corps – Brooklyn, NY – If you want a bomb slice of pie, head to Pie Corps on March 14th for a $3.14 slice! Until then, go ahead and drool over these instagram photos.
4. Linda's Bakery – West Salem, WI – Linda's Bakery really knows how to celebrate Pi Day! They are celebrating "pi" the whole week of 3/9 to 3/15 with a buy 6 get 6 free deal on their famous pie tarts! But that's not all, on March 14th you can get one of their 6″ pies for only $3.14! Now that's what we call a sweet deal.
5. Coco's – California, Arizona, Nevada – On Saturday, Mar. 14, Coco's is celebrating the mathematical constant, Pi (π or 3.14). Finding any excuse to slice into more pi(e), Coco's is treating Coco's E-Club members to a free slice of pie from 4 p.m. to 10 p.m. at participating locations. From Dark Chocolate Raspberry Harvest to Caramel Apple Harvest, rewards members can indulge in a complimentary slice of Coco's award-winning pie, each handmade and freshly baked. Not a Coco's E-Club member? Join today by visiting: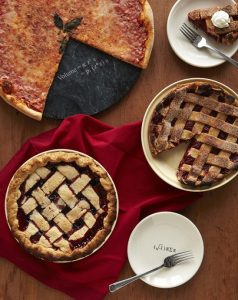 6. Crave Pie Studio – Duluth, GA – Hey hey hey, we have another deal! Order ahead at Crave Pie Studio because they are offering a discount of $3.14 off pre-ordered full size signature recipe pies.  Here is a link to their order page:
7. Fireman Derek's Bake Shop – Wynwood and Coconut Grove, FL – Will offer a limited selection of pie slices for just $3.14 on Pi Day 2020. Eligible flavors include Key Lime Pie, Salted Caramel "Krack" Pie, Salty Monkey Pie, Pecan Pie, Apple Pie, Guavaberry Pie and Chocolate Pecan Pie.
8. Bubby's – New York, NY – Is celebrating with pie slices priced at $3.14, including classics like apple, sour cherry, peanut butter chocolate, banoffee and more.
9. Reviver – Chicago, IL – Is celebrating with individual pies priced at $3.14. Pie offerings include Fresh Strawberry Mint, Key Lime Custard and Snickers. Reviver is open Saturday, March 14 11 a.m. to 11 p.m.
10. Southern Baked Pie Company – Georgia – Are offering Friday 3-13 and Saturday 3-14, $3.14 slices of pie and hand pies! Yum!
11. First Methodist Church – Du Quoin, IL – Will be back this month with another classic Pie Day. From 10 a.m.-1 p.m. on Saturday, March 14 come to the church for a $3 slice of homemade pie and a cup of coffee or tea. Add a scoop of ice cream for $1.
12. Signal Station Pizza – Portland, OR – Will be selling slices of Pizza for $3.14.
13. Paiku – Portland, OR – Will be offering pie sampler plates.
14. The Pie Hole – Vancouver, Canada – Will be celebrating PI DAY on March 14 (3.14, get it?!) with $3.14 off all 9″ pies (ordered through the website March 5 through 15 with code PIDAY2020) and $3.14 4″ pies in the shop on March 14th at all three locations until supplies last… they sold out early last year.
15. Achatz Handmade Pie Company – All Locations/Michigan – Because they are closed on Saturday's Achatz is celebrating Pi Day a day earlier! Can't complain about that! All pie slices will be $3.14 on Friday 3/13. Teachers will receive 15% off their entire order. Or win a pie party for your classroom (8 whole pies)!!! Details to enter here.
16. Bean & Pie – Coeur d'Alene, ID – Two summer handpie flavors are coming out of the pie vault for one day only, a brand new flavor launch, and all handpies are three for $14. Includes a Pi Reciting Contest with a free pie for the person who can recite the most digits of pi from memory. Pre-orders accepted online!
17. Whole Foods – National – Whole foods are joining in on the Pi Day mania with their deal of $3.14 off all whole pies, plus an extra 10% off for Amazon Prime members.
18. The Albert – Chicago, IL – The art and science inspired restaurant located within the equally-curious Hotel EMC2 in Streeterville will be offering delicious gourmet slices for just $3.14, courtesy of Executive Pastry Chef Allison Schroeder. Guests may treat themselves to a slice from the restaurant's wide range of flavors including Apple, Mint Chocolate Oreo, Coconut Cream and Peanut Butter at this special price to honor PI. For more information on the restaurant including full menus or to make a reservation, please visit www.thealbertchicago.com.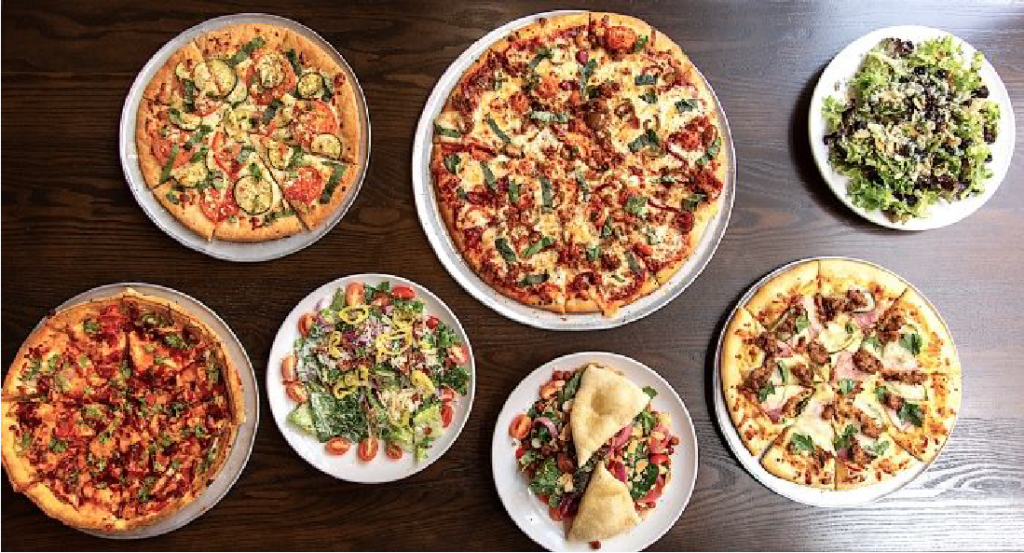 19. Blaze Pizza – National – The $3.14 Pi Day deal will not take place on Pi Day due to concerns regarding COVID-19. However, Blaze will be offering their annual Pi Day discount starting on March 16 and redeemable through the end of the year. The offer will be available via the Blaze Pizza app. Guests who download the app by 11:59 PM on Sunday, March 15, will see the offer appear automatically. The offer is valid for any original or gluten-free crust. The keto and cauliflower crusts are also included in the Pi Day deal but include an upcharge.
20. Lou Malnati's Pizza – National – These absolute legends will be offering their Chocolate Chip Cookie Pizza for $3.14. This will be for customers who dine-in at their full-service restaurants on 3/14!
21. Papa John's Pizza – National – Buy a large pizza at regular menu price and get a large 1-topping pizza for $3.14! I don't know about you, but we love Papa John's pizza over here so we're pretty excited that they are having a Pi Day deal! At participating locations only.
22. Fresh Brothers – California – Are giving you an amazing deal on their personal pizzas this Pi Day! This year on March 14th they'll be offering cheese, pepperoni, and vegan cheese personal pizzas for only $3.14 with the code PIDAY.
23. My Pi Pizza – Chicago – My Pi Pizza is celebrating March 14th with $3.14 thin crust cheese pizzas! Additional ingredients are $1.59 ($3.14+$1.59!!) They ship nationwide so check out their deal now!
24. Papa Murphy's – National – On Saturday, March 14th you can get 31.4% off your online order of $20 or more using the code PIDAY. This Offer valid online at participating locations on 3/14/2020 only. $20 minimum purchase required. Discount off regular priced menu items. Excludes FAVES® and XLNY® pizzas. Not valid with any other offers, promotions or discounts. Cannot be sold, transferred or duplicated. Limit 1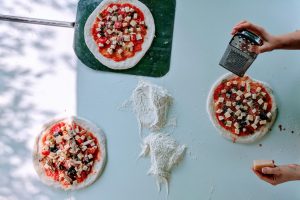 25. 1000 Degrees – National – $3.14 for any 10" Pizza – Classic or BYO – on March 14th at all locations via the 1000 Degrees Rewards App. Offer will be provided to all current and new rewards members on Pi Day. Gluten Free options are also available and subject to an upcharge.
26. Varuni Napoli – Atlanta – Indulge in some of the most renowned pizza in Atlanta at Varuni's. The Midtown location will be offering Margherita pizzas for $3.14 off ($16.86) from 12 p.m. to 3 p.m.
27. Stevi B's – Atlanta – This buffet-style pizza joint will have a special deal on Pi Day, allowing customers access to the all-you-can-eat cheesy, carby goodness for only $3.14 at the Woodstock location. As the day approaches, you can check in with their many other locations to see if they are participating.
28. Your Pie – All Locations/National – The National pizza franchise Your Pie (70+ locations) will celebrate the world's favorite mathematical constant by offering its signature 10-inch pizzas for the price of Pi (just $3.14!). To redeem the deal, guests must claim the offer via the Your Pie Rewards App and present the app at checkout. The app is available for download at yourpie.com/loyalty.
Your Pie is also using its highest-traffic day of the year to raise awareness for local nonprofits nationwide. At participating locations, guests will have the opportunity to make a donation toward their store's chosen charity partner at checkout.
29. Brezza Cucina – Atlanta – In honor of the annual holiday, Brezza Cucina will be offering a  $3.14 Margherita pizzas from 3 p.m. to 4 p.m. on Saturday, March 14.
30. Pop Up Pizza – Las Vegas, NV – Is offering slices of its Old School Cheese pizza (fresh sauce, whole milk mozzarella, oregano, fresh basil and grated parmesan) for just $3.14 on Pi Day.
31. Pieology – National – Celebrate National Pi Day with an in-store, all-day offer: buy one Artisan Thin Pizza, get a second for $3.14. Pieology's Pie Life Rewards members can be entered to win free pizza for a year if they download the Pie Life Rewards app on Pi Day; one winner will be chosen per participating Pieology location across the country. New and existing Pie Life Rewards members who use the Pie Life Rewards App in-store on Pi Day will also receive $3 off their next visit through March 31.
32. Mici Handcrafted Italian – All Colorado Locations – Will give away 3.14 10" pizzas to the first four people in line at 3:14 PM on 3/14/19. Of course, the first three people will receive a whole pizza, while the fourth will receive .14 of a pizza.
33. Sauce Pizza and Wine – All Locations/National – National Pi Day is not only a day for mathematicians and dessert lovers, but Sauce pizza lovers too! For Pi Day 2020, Sauce Pizza and Wine will offer 12-inch cheese pizzas for just $3.14. To receive this deal, guests simply mention "Pi Day" when ordering. This offer is available at all Sauce locations, for dine-in only and limited to one per guest per visit.
34. Blue Flame – Daytona, FL – Is offering guests a free Moonshine cocktail on National Pi Day when they purchase one of their "track pies" — pizzas with a unique oval shape that mimics the design of the famous Daytona International Speedway racetrack.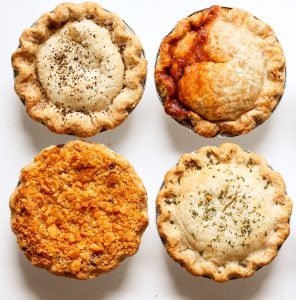 35. Chiya Chai – Logan Square, Chicago – Will celebrate Pi Day on Saturday, March 14 with $3.14 savory pies while supplies last. The Pi Day menu includes the Masala Chicken Pie with local free-range chicken, signature masala curry with cream, yogurt, spices, peas and carrots; Curried Kale and Potato Pie with curried kale, red onions, cumin seeds, spices, potatoes, carrots and peas; and Spicy Minced Pork Pie with minced Iowa pork, crushed pepper, hot chili, red and green peppers, garlic and spices.
36. Saba Italian Bar + Kitchen – Chicago, IL – When you're done at Chiya Chai, take a walk down the street and celebrate some more with $10 pizzas at Saba Italian Bar. Pizzas on special will include the Cheese Pizza with tomato sauce, fontina, parmesan and mozzarella; Margherita with spicy pomodoro, basil and mozzarella; Carne with spicy pomodoro, sausage, pepperoni and green onions; and Mushroom with cremini mushrooms, fonduta, fontina cheese, chives and truffle oil. The special will be offered on Saturday, March 14 from 10 a.m. to 3:14 p.m. Reservations are recommended and can be made here.
37. Fired Pie – Arizona – Is offering any one-topping pizza at for just $3.14 with the purchase of any drink on Pi Day 2020.
38. Avli Taverna – Chicago, IL – Is celebrating Pi Day with $3.14 Mini Spanakopitas made with spinach, feta and filo available during brunch service on Saturday, March 14 from 10:30 a.m. to 2:30 p.m
39. Centre Street Kitchen – Chicago, IL – Is going all out with their Pi Day celebration, and we are living for it! They will have a 3.14159 numerically-themed menu, including three small plates, one salad, four wines in a flight and one entrée, all for $59. Dish highlights include roasted cauliflower with guajillo glaze, lemon, toasted pumpkin seed and cotija; broccoli Caesar salad with shaved broccoli, parmesan anchovy vinaigrette, rye crouton, shaved parmesan and choice of protein; and Loch Duart Salmon pan-seared with black garlic, The special will be available on Saturday, March 14 from 4 p.m. to midnight. Reservations are recommended and can be made here.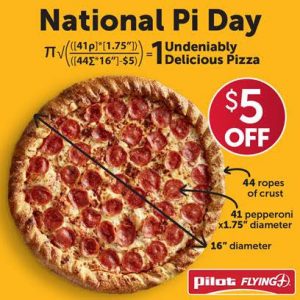 40. Pilot Flying J – National – What better way to celebrate the mathematical constant pi than with a pizza pi(e)? Pilot Flying J, the largest network of travel centers in North America, is dishing out deep discounts on its pizzeria-quality pies, offering $5 off whole pizzas Mar. 9-15 through the Pilot Flying J app. Download (or open) the app within these dates to find an exclusive offer waiting to be redeemed at the more than 330 Pilot and Flying J Travel Centers serving "Undeniably Delicious" pizza. This offer includes the LTO Chicken Cordon Bleu pizza.
41. il Solito – Portland, OR – In honor of Pi Day falling on a Saturday this year, il Solito is offering a weekend-long deal (from March 14 to March 15) on everyone's favorite brunch pie: quiche. Guests can treat themselves to a seasonal quiche plate, side salad, and drink (choose between a Bloody Mary, mimosa, Aperol spritz, coffee or juice), for just $13—which equates to a free drink—and a portion of every sale will go to ChefsCycle. The annual culinary-led ride is taking place in Bend, Ore., this year, and benefits No Kid Hungry in an effort to end childhood hunger in America
42. Rally Pizza – Vancouver, WA – is celebrating 3/14 with $3.14 tap beer and house wine, meatball pizza, and music from DJ Mauvelous from 5-9 pm, with proceeds supporting the Pacific Northwest chapter of Girls Inc.
43. Pi Pizzeria – Washington D.C. – They will be giving out FREE large pizzas to anyone who was born on Pi Day. What a deal! Also BOGO pizza for $3.14!
44. 7 Eleven – National/Participating Locations – On March 14, 7Rewards members can get a whole pizza pie (pepperoni, extreme meat or triple cheese) for $3.14 in-store or purchase a slice for $0.50 at participating locations. You can also order a whole pizza for delivery for $3.14 through the 7NOW app all day on Pi Day.
45. Kitchen United Mix – National – On March 14, get $3.14 off your order at the food hall (including The Halal Guys, Saladworks, Mama Musubi and more) when you use code PIDAY at checkout.
46. Marco's Pizza – National – Buy any large pizza at menu price and get another one of equal or lesser value for only $3.14 with code PIDAY2020.
47. Patxi's Pizza – All Locations – On Pi Day, customers who dine in can get a 10″ specialty thin crust pizza for just $3.14 with the purchase of any 14" deep dish or specialty pizza.
48. BJ's Restaurant and Brewhouse – National – Dine-in customers can order a mini one-topping deep dish pizza at BJ's Restaurant and Brewhouse for just $3.14 on Pi Day. "You don't need to be a mathematician to know this is a great deal," BJ's says.
49. Cheddars – National – Cheddar's Scratch Kitchen is celebrating with a different kind of "pie" this Pi Day by offering a Pi(e) One, Get One deal on one of the restaurant's most signature menu items, Homemade Chicken Pot Pie. For one day only, on March 14, guests who order a Homemade Chicken Pot Pie in-restaurant or ToGo, will get a second pie free-of-charge to take and bake at home, no coupon necessary. The Homemade Chicken Pot Pie comes with a house salad and Honey Butter Croissant in-restaurant, starting at $9.99. On Pi Day, guests can enjoy one of their favorite Cheddar's dishes – and get a second one to enjoy later too! For more information about this offer, visit Cheddars.com/PieDay.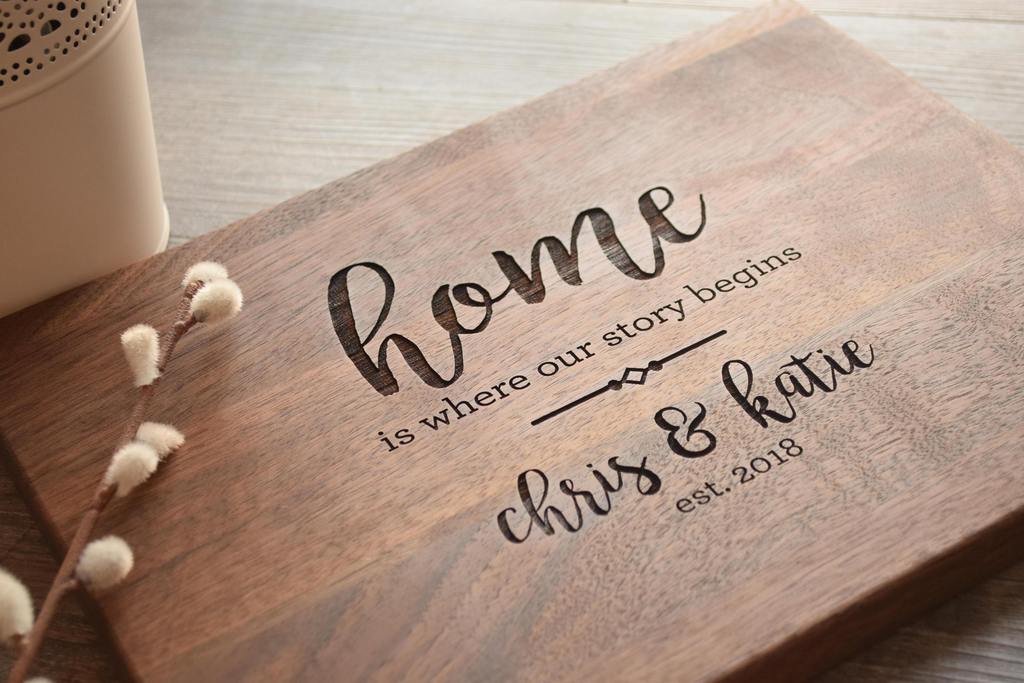 50 . 28 Collective – In celebration of Pi Day 2020, 28 Collective will be offering 14 percent off all personalized gifts, plus 14 percent off entire orders and free shipping with code "PIDAY14" at checkout.
51. Ocelot Market – Will mark Pi Day 2020 with 31 percent off anything using code "314PIDAY."
52. ShoeMall – Celebrate Pi Day with 30.14 percent off from March 12 through March 14 with code "PIDAY."
53. RoM Shoes – Portland, OR – Will be offering 3.14% off all shoe purchases all day on 3/14/2020
54. Prima Coffee – Saving on coffee gear is as easy as pi! Take $3.14 off orders of $25 or more from now until 3/14/2020. Use code: betterwithpi
55. GoPuff – National – On March 14, get 15% off any pie shaped (round) products on orders of $10 or more (max discount of $5) with code GOPI20.
For other Pi Day Celebrations check out this page. If you're wanting to host your own Pi Day celebration, find all the things you will need on our Pi-Stuff Page!
---
To submit your Pi Day Deals for inclusion on this page, please submit the form below.
We will get back to you as soon as possible.